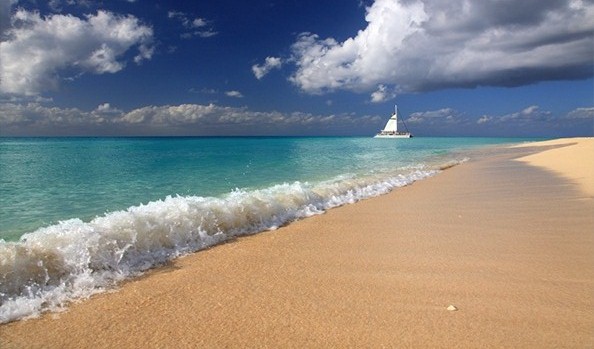 Cozumel Beaches attract thousands of visitors each and every year for good reason. Each beach offers it's own personality for you to explore, beautiful, diverse, quiet, exciting, gentle, rugged & dangerous are all words that can describe the vast array of beaches in Cozumel. And no matter what Beach you choose, every choice is a good one! Whether you want to play in the surf, relax and work on your tan, or swim, snorkel & dive, Cozumel boasts many beautiful beaches to choose from. As a matter fact, depending on how long you are staying in Cozumel, there may be too many beach choices… which isn't such a bad thing!
No matter where you stay on Cozumel, you owe it to yourself to explore as many of Cozumel's beaches as you can. This is the only way to find your own personal favorite beach experience.
Cozumel has three types of beach experiences to choose from
The first type of beach in Cozumel offers gentle sloping soft white sand beach where the waves are small but the currents can be strong. These beaches are popular for sunbathing, swimming, boogie boarding, kite flying and many other beach activities. If you want to have an inclusive beach experience why not try one of the many Cozumel beach clubs that populate the island.
The second type of beach in Cozumel offers more of a rocky shoreline. These beaches are much better for snorkeling than laying out.
The third type of beach you will find in Cozumel is of the man-made variety. Now when we speak of a man-made beach, what we mean is that a sand beach was made where once only limestone was before. These man-made beaches or beach hybrids offer the best of both worlds. You get the sand and beach scene yet there are good snorkeling opportunities as well.
Here are some Cozumel Beach Tips to remember:
Sunset Beach, Dzul-Ha Beach and lastly Playa Corona Beach offer the best snorkeling opportunities from the beach in Cozumel.
Sandy gentle sloping beaches on the west side of the island typically have much calmer water. However Snorkeling is less than desirable due to lack of coral reefs and the sand decreases the clarity of the water.
Beaches in Cozumel offering more of a rocky shoreline on the west coast of the island are the best for snorkeling & shore dives. There is more coral growth and with less sand the water is crystal clear.
The beaches on the east side of the island offer larger waves, sandy and rocky shorelines. These beaches while beautiful, are more dangerous because the waves and currents create strong undertows. Swimming is not recommended on most of the east side beaches in Cozumel. You will find many areas with flags posted showing the level of beach conditions please be sure to pay attention to these warnings. While the beaches on the East side of Cozumel are not for swimming, they are extremely beautiful and offer great sunbathing, scenery and some water play close to shore.
Popular Beaches in Cozumel